Durarara!-First Starting off as an manga adaptation by Akiyo Satorigi started serialization in the shōnen manga magazine Monthly GFantasy on April 18, 2009. Now An Anime Since January.With this anime lets just say you dont want to be going out a night when all of this occors.
Plot-Mikado Ryūgamine is a young man who longs for the exciting life of the big city. At the invitation of his childhood friend Masaomi, he transfers to a school in Ikebukuro. Masaomi warns him about people he doesn't want to cross in the city: a violent man dressed like a bartender, an information merchant, and a mysterious gang called "Dollars". And to top it off, Mikado witnesses an urban legend on his first day in the city: the Headless Rider astride a black motorcycle.
Episodes So Far As Of February 11-5 A Total of 24 are to be made *Note:these may change if the companies decide to keep making them*
Characters:
Mikado Ryūgamine-Mikado Ryūgamine is a high school boy who moved to Ikebukuro in search of unusual beings and adventure. He is the creator of a mysterious gang called "Dollars".His online chat screenname is "Tanaka Taro".
Masaomi Kida-A resident of Ikebukuro and Mikado Ryūgamine's best friend from childhood. He encouraged Mikado to come to Ikebukuro. He is enthusiastic about picking up girls but more than often fails at it.His online chat screenname is "Bakyura"
Anri Sonohara-A bespectacled girl who attends the same school as Mikado and Masaomi. Her online chat screenname is "Saika".
Izaya Orihara-A young man who sells information for his own enjoyment. He claims to love the entire human race except for Shizuo Heiwajima, and exhibits said love by putting humans in often miserable conditions and observing their reactions.
He attended Raira Academy with Shizuo, Shinra and Kadota. According to Shinra, Izaya and Shizuo hated each other with a passion almost from the point they met. In the novels Izaya framed Shizuo for crimes on several occasions.
He is a master of parkour, and also quite skilled with his flickblade (the blade he uses must be slightly opened before the mechanics of it springs the blade open - a switchblade will open on its own after the user presses a switch) as he is implied to be the only one capable of leaving numerous cuts in Shizuo's bartender suit after a fight in the novels. In the anime, he shaves a gang member's head bald without him noticing it. Izaya has two younger sisters, Mairu and Kururi, who are twins and troublemakers. His name comes from a combination of the biblical Isaiah and Japanese for "the one who looks over the crowd". He is usually seen pretending to be female
online and talks in a feminine manner in the chatroom. His screenname is "Kanra".
Shizuo Heiwajima-A man who is always seen to wear sunglasses and a bartender's suit. Although quiet and nondescript while not angered, he has a very short fuse and fights with incredible strength. Despite his simple and unrefined fighting skills, he is often considered the strongest fighter in the series. In the novels his power is described as the naturally unlimited form of human strength and likened to "adrenaline power" that can give people superhuman strength in times of emergency. In addition, Shizuo is capable of often superhuman parkour moves, a skill he obtained naturally from years of hunting down Izaya Orihara. He works as a debt collector in Ikebukuro and carries intense animosity towards Izaya. He has a younger brother, Kasuka, who is a top idol under the showbiz name of Hanejima Yuuhei. He is also a long-time acquaintance of Selty. His first and last name translates literally into "serene man" and "peaceful island" respectively.
Simon Brezhnev-A tall black Russian who came to the city to help out his Russian friend who runs a sushi shop. His real name is Samia but everyone just calls him by the name, "Simon". Even though he is a friendly person, it has been shown that he is a force to be reckoned with as he is able to stop a fight with a man his size with just a single arm and also able to fight on par with Shizuo, who is one of the most feared men in Ikeburero.

Opening Song:"Sunset of Betrayal" by Theatre Brook

Ending Song:"Trust Me" by Yuya Matsushita
----------------------------------------------------------------------------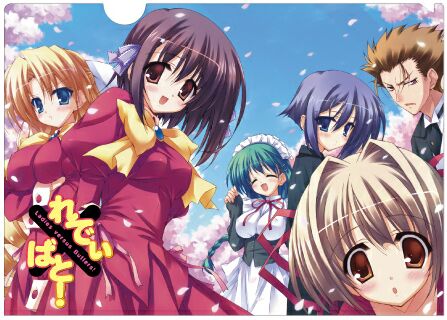 Ladies versus Butlers!- Began as a Japanese light novel series written by Tsukasa Kōzuki, with accompanying illustrations by Munyū. The first novel was released in September 2006, and as of September 2009, nine volumes have been published by ASCII Media Works under their Dengeki Bunko imprint. A manga adaptation by the illustrator group Nekoyashiki-Nekomaru started serialization in ASCII Media Works' Dengeki Moeoh seinen manga magazine in June 2008. A drama CD based on the novels was released in September 2009. An anime adaptation produced by Xebec and directed by Atsushi Ōtsuki began airing in Japan in January 2010.
Plot-rThe story stars high school boy Akiharu Hino, who's drafted into his new school's training program for maids & butlers.
Episodes As Of February 11- 6 A total of 12 are to be made *Note:this can change if the companies decide to add more to the anime*
Characters:
Akiharu Hino-The main protagonist of the story, he is often seen as a delinquent because of his red eyes and rough exterior. In truth, he is a caring personality. Often times because of everyone's less than friendly perceptions he is often accused of performing perverted acts on the girls of the academy. His childhood friend Tomomi is often behind the schemes leading to these misunderstandings.
*Background:STRIKE!!!* Tomomi Saikyo-Tomomi is an upper-ed student at the academy and is also Hino's childhood friend. While she has a seemingly kind and polite demeanor to most other people, a more sinister side to her can be noted when she speaks to Hino or Selnia, as a dark chuckle may slip from her mouth as she finishes a sentence. She is also noted to break into evil smirks when she plans a prank.
Sanae Shikikagami-A clumsy maid at the academy who always causes Akiharu much trouble. She also has an older sister, Saori Shikikagami. She used to be in the upper-ed, but because her family fell from grace, she was transferred over to the servant-ed. She shows much ineptitude for tasks required for a maid, and usually ends up making a mess.
Kaoru Daichi-Akiharu's roommate and also a servant-ed student. Has many fans in the upper-ed section, and is mistaken to be a guy, but is actually a crossdressing girl. She is rather cold to Akiharu at first, but slowly warms up to him. She is always worried about her real gender getting exposed, especially with Akiharu's presence in the room. However, when Akiharu accidentally sees her naked, he showed no reaction and still is under the mistaken conception that she's a guy, and she was a little upset by his apparent indifference.

Opening Song:LOVE x HEAVEN Ayako Kawasumi, Mai Nakahara, Rie Kugimiya and Ami Koshimizu
Ending Song:*Note:I cant find the song and/or the video to the ending,im currently looking and i would really like the help,

*
----------------------------------------------------------------
Now To One Of My Favorite anime,Baka to Test to Shōkanjū-Like Most Anime It Was Made as a Japanese light novel series by Kenji Inoue with illustrations by Yui Haga. The first novel in the series was released on January 29, 2007, and as of December 26, 2009, a total of nine volumes, including volume 3.5 and volume 6.5, have been published by Enterbrain under their Famitsu Bunko publishing imprint. A manga adaptation by Mosuke Mattaku started serialization in the manga magazine Shōnen Ace on April 25, 2009. Another manga adaptation by namo started serialization in the male oriented web comic magazine Famitsu Comic Clear on October 30, 2009
Plot-The story centers around a boy named Akihisa Yoshii, also known as the idiot or "Baka" of the title. He attends Fumizuki Academy, a school where the staff rigidly divides the students based on the results of their tests. In this case, Class A is filled with the highest-scoring students; therefore, their classroom was filled with many prestigious items (air conditioners, fancy seats, huge spaces, etc.), while the state of Class F is the complete opposite of that, leaving much to be desired.
This academy has something special, where all the students manage to call forth Summoned Beings (Shōkanjū). These Beings, whose strengths are measured by their summoners' grades, are used for battles between the classes. Since Class A is filled with prodigies, they all have strong Summoned Beings, while Class F has drastically weak ones in comparison.
On the day of the placement test, a smart girl named Mizuki Himeji suffers from a fever and is unable to complete her test. As a result, she is pigeonholed into Class F together with Akihisa Yoshii. Akihisa, who worries for her health, pitches an idea to his class to rule over the higher-level classes by doing a Summoned Being War for both Mizuki's sake and to get more and more privileges. Aside from Mizuki (who happens to be the second-ranked student in the year), there is also the class representative Yūji Sakamoto, the bishōnen Kinoshita Hideyoshi, the perverted Tsuchiya Kouta, and the tomboyish Shimada Minami (whom Akihisa claims is his worst enemy).
Characters:
Akihisa Yoshii-Akihisa Yoshī is the protagonist of the story and carries out the first person narration view in the novel. He is portrayed as the Ultimate Idiot (Baka among all Baka) and is implied to have the worst grades among his peers of the same level. In the novel, his friends make fun of his idiocy by turning his name, by appending suffix '-ful', into an English adjective; "He is so Akihisaful" essentially means "He is so stupid" in the context of the novel. Because of his absolute idiocy, he is also given the title of Punishment Inspector and his Shōkanjū (Summoned Being) is the only Shōkanjū given the ability to touch corporeal objects in order to help the teachers with chores as a punishment for being the Ultimate Idiot. Because Shōkanjū are many times stronger than humans, Akihisa can help the teachers perform tasks that would normally require the strength of many people. The flip side to this 'special ability' is that any damage taken by his Shōkanjū will be transmitted to himself as well. Thus, he is always reluctant to fight Shōkanjū battles due to the pain he will accrue during the battle. However, because he is very much accustomed to controlling his Shōkanjū as compared to other students, his Shōkanjū is much more nimble and can execute many unorthodox moves (such as sliding attacks), and this has enabled him to win battles otherwise thought to be impossible due to his poor grades.
His Shōkanjū's ability to touch corporeal objects was also instrumental in helping his class to defeat Class B in volume 1. Akihisa's parents are on long-term overseas work assignments and send money back regularly. However, he always spends this money on the latest games and as a result, he has to live on merely salt, sugar, and water. In the anime, he is depicted to survive on a sub-divided piece of cup noodles which can be as small as 1/64 of the entire piece. Akihisa has many romantic admirers, both female and male, including Mizuki Himeji, Minami Shimada, Haduki Shimada, and Toshimitsu Kubo, but is oblivious to this due to his idiocy while everyone around him is aware of this. Though he frequently claims that he is energized by just looking at the feminine-looking Hideyoshi Kinoshita, his real love interest is Mizuki Himeji. He cares deeply for Mizuki and is always thinking of ways to improve class F's condition for her health's sake, but is under the impression that she is in love with Yūji Sakamoto. Despite the fact that they always sabotage each other's reputation, Akihisa has a close friendship with Yūji and can communicate with him just by glances and without any words. Akihisa also has excellent cooking skills, as a result of having to fend for himself because he lives alone, and is good at housework. After the tournament in volume 2, Akihisa acquired the platinum bracelet that lets him perform dual summons, allowing him to have two Shōkanjū in a battle. His Shōkanjū wears a school uniform and wields a wooden sword.
Mizuki Himeji-Mizuki Himeji is one of the smartest students in Fumizuki Academy and would have probably ranked second of her level if not for her inability to finish her placement exam due to her fever. In Fumizuki Academy, leaving in the middle of an exam gets a student zero. As a result, Mizuki was placed in the worst class, class F. Despite the poor conditions of her class which were unfavourable to her fragile health, she claims to be happy because her love interest, Akihisa Yoshī, is in the same class. Mizuki is also portrayed as a shy, timid, innocent, but determined girl. Akihisa and Mizuki used to be in the same elementary school, and since then, she has long admired Akihisa for his thoughtfulness, caring personality. Mizuki also finds Akihisa cute, especially in maid costumes. Towards the end of volume 2, Mizuki changes her way of addressing Akihisa from Yoshī-kun to Akihisa-kun. Even though she has both brains and beauty, Mizuki possesses lethal cooking skills and in the novel, anyone who eats her handmade cooking goes into a coma, including Hideyoshi Kinoshita who is known for his strong stomach. However, she is completely oblivious to the lethality of her own cooking. She is on particularly good terms with Minami Shimada, and calls her Minami-chan ,despite the fact that they are love rivals. Her Shōkanjū is clad in heavy armor and wields a large sword.
Minami Shimada-Minami Shimada is one of the only two female students in class F. She is a Japanese who spent most of her life in Germany before coming to Fumizuki Academy, and as a result she is especially weak in kanji. Because of this handicap, the only exam in which she can do well is math. Minami is the tsundere of the series. Physically, she is slim and has long legs but somewhat lacking in the 'chest department'. She is in love with Akihisa, but due to her inability to express herself and her tsundere nature, she acts violently towards him, often causing him to misunderstand her intentions. During the class battles in volume 1, while executing a delay tactic, Akihisa indirectly defamed Minami and caused her to enter the list of "Top Ten Women Not To Date" among the guys in Fumizuki. In the novel and manga, during a battle in which Akihisa's survival depended on Minami, he was blackmailed to address Minami by her first name, and from then onwards, she started calling him Aki instead of Yoshī. In the anime, this took place when she threatened to break his bones. It is a running gag in the light novel series that whenever Minami expresses genuine concern for Akihisa through her actions or words, Akihisa always draws the conclusion that he is going to get assassinated or sabotaged by her in some obscure way. She is on good terms with Mizuki, being the only two girls in class F, and calls her by her first name. She is good at cooking, due to the fact that her parents are not at home most of the time. Her Shōkanjū is clad in blue military uniform and wields a sabre.
Yūji Sakamoto-Yūji Sakamoto is the class representative of class F. In the series, the class rep position is assigned to the smartest student of that class. He is cool, collected, and exhibit surprisingly high intelligence and foresight unexpected of a student from class F. In volume 1, his strategies and tactics had helped class F to attain victory after victory, until the duels with class A in which he overestimated his ability in elementary school level Japanese history. Yūji was once known as a child prodigy in his childhood. The only reason why he ended up in class F was because he did not study at all and he holds the strong belief that grades are not everything. However, due to the consequences he 'suffered' from his defeat from Shōko Kirishima, his childhood friend and also the top student of his level, he became motivated to study again, and in the later volumes, his Shōkanjū became reasonably strong in just a few months due to his test scores improving by leaps and bounds.
It is implied that he is actually smarter than his childhood friend, Shōko. After the tournament in volume 2, he acquired a platinum bracelet which allows him to control the size of the force field of his Shōkanjū, allowing him to form a one-man army choke point since humans cannot pass through this force field. He bears no ill intention towards Shōko, but due to her unyielding obsession with marrying him since their childhood days, he sees her as having a few loose screws in her mind, and fears to even think of his future if he does marry her. Yūji is close to Akihisa to the point where they can actually communicate without any words. A gag in the series is that Yūji will attempt to decipher a complicated expression on Akihisa and comment on a series of events that must have taken place. While he meant it as a joke, he is always a spot-on when this happens. His Shōkanjū wears an outfit that makes it look like a punk, and is armed with brass knuckles.
Hideyoshi Kinoshita-Hideyoshi Kinoshita is a very feminine-looking bishōnen and is the younger twin brother of Yūko Kinoshita of class A. Despite being a fraternal twin, except for his male body, he looks almost identical to his twin sister. Because of that, his male peers see him as a female, which upsets him though he doesn't express it strongly. In the Anime, his feminine looks are often the subject of fanservice. Hideyoshi has a helpful personality and is willing to support any activity his friends embark on. He uses a form of Japanese grammar commonly used by old venerable men. While he is bad in academics, he has unquestionable talent in acting, and can not only replicate the behavior and mannerisms of other people but also their voices as well. In volume 2, he was instigated by Akihisa to mimic Yūji's voice to propose to Shōko during their tournament, confusing her and ultimately setting up the stage for a win for Akihisa-Yūji Team, but this move caused Yūji all manner of problems later on. His Shōkanjū is clad in Hakama and wields a Naginata.
Kōta Tsuchiya-Kōta Tsuchiya is the ultimate pervert in Fumizuki. He has a dark taciturn personality, and as such, he's given the nickname Morose Pervert (ムッツリーニ, Mutsurīni?), implicitly derived from Mutsuri (むっつり?) to form a parody for Mussolini (ムッソリーニ?). While Kōta is uncommunicative by nature, he is part of class F's inner circle group of Yūji, Akihisa, Mizuki, Minami, and Hideyoshi. He is terrible at all subjects except for Health Education, in which few students, if any, could come close. If the score of a subject is particularly high and distinctive, the Shōkanjū in question will be given an accessory that grants the Shōkanjū some special powers. And because of Kōta's extreme high score in Health Education, partly attributed to his wealth of knowledge of the human anatomy, especially that of females, his Shōkanjū carries an accessory, during battles in Health Education, that allows the Shōkanjū to perform an accelerated move. In the novel, he is also shown to be an expert in sneaking, gathering information, and photography. His Shōkanjū wears a ninja outfit and dual-wields Kodachi.
Shōko Kirishima-Shōko Kirishima is the childhood friend of Yūji Sakamoto. She is the top student in her level and the class representative for class A. In the story, she is portrayed as a soft-spoken, but highly assertive and intelligent girl. In the novel, her dialog always starts with ellipses. She is described as elegantly beautiful and very popular, but yet has no boyfriend, which initially created the impression to others that she is a lesbian. Later, it was revealed that the reason for this is because she is crazily infatuated with Yūji since childhood and acts possessively towards him. Despite being tricked multiple times, she still shows a trusting nature towards Yūji and practically believes everything he says. Shōko is also shown to be someone who is very long-term thinking, and has already decided on her children's names (Shoyū for a girl, and Koshō for a boy). She is also a gadget moron and is known to spoil any electronic gadget that falls into her hands. Her Shōkanjū is clad in Samurai armor and wields a Japanese longsword.

Opening Song:"Perfect-Area Complete" by Natsuko Aso

Ending Song:"Baka Go Home!" by milktub and BakaTest All Stars